Blue Collar Boneyard
Art & Illustration
Digital Artwork CommissionsLine Art, Single Figure: $80
(Additional Figure: +$30)Colored, Single Figure: $125
(Additional Figure: +$50)Full-Color Illustration With Background, Single Figure: $200
(Additional Figure: +$50)For books, comics, zines, or other larger projects, contact me to negotiate custom pricing. I do not draw copyrighted or trademarked characters for commissions, including anime and manga, cartoon, or video game characters. I will not co-opt a drawing style other than my own for a commission, such as Disney style.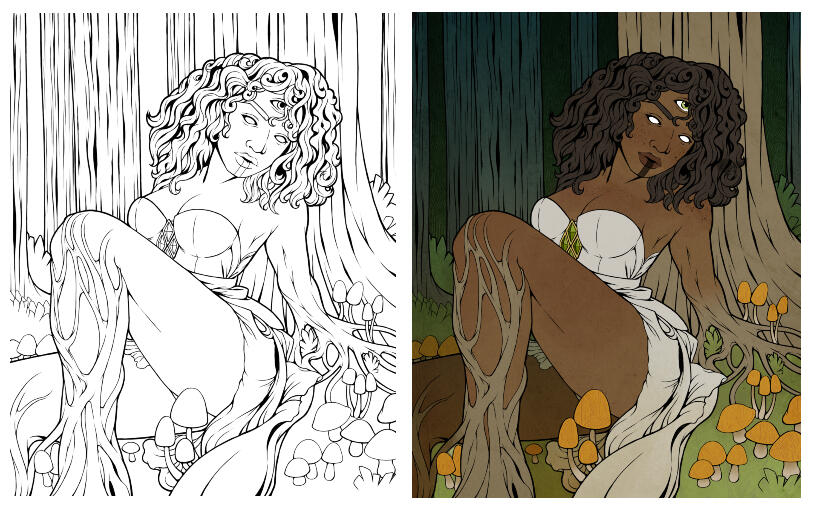 Blue Collar Boneyard was born at one in the morning, in a dusty warehouse, with a drill in my hand and dirty steel-toed boots on my feet. It was not where I had imagined I would be, it was where I needed to be. It was where myself and millions of people just like me needed to be.Ideas, dreams, and latent potential don't pay bills.I realized that this was where dreams go to die. This is the boneyard where millions of people are forced to bury their ideas, their dreams and visions, and their potential as world-changers because the circumstances of their birth have not offered them the fertile soil in which to grow their opportunities. And this life will so easily bury us all alive, if we let it.There is still mystery in this life. There is wonder and curiosity, and there is horror, and darkness. These things are not reserved for the picturesque life, nor for beautiful people.In my work I strive to reach into the dark corners of everyday life and pull out what lurks there. I take heavy influence from folklore, the inevitabilities of nature, and from the textures and feelings of working-class life, and rip the truths from the pretension of contemporary art practice.
Blue Collar Boneyard was formed with the intention of forming a dialogue between illustration and fine art. The artist has experience as both a published illustrator and as a traditional gallery artist in the Southeast United States, and holds a Bachelor of Fine Arts in Painting & Drawing from the University of Tennessee.
Convention Schedule
Conventions and shows are currently on hold for the 2022 season. Please check back for future updates.
| Upcoming Shows | | |
| --- | --- | --- |
| QFX East | Tampa, FL | POSTPONED |
| Infinity Con | Tallahassee, FL | CANCELLED |
| Magic City Con | Birmingham, AL | CANCELLED |
| Florida Supercon | Miami Beach, FL | CANCELLED |
| Tampa Bay Comic Con | Tampa, FL | CANCELLED |
| Quest Con | Orlando, FL | CANCELLED |
| Ancient City Con | St. Augustine, FL | CANCELLED |
| Star Con | Orlando, FL | CANCELLED |
| Previous Shows 2020 | | |
| --- | --- | --- |
| Central Florida Comic Con | Lakeland, FL | January 18-19, 2020 |
| SSA+S Toracon | Sarasota, FL | February 1, 2020 |
| SyFy Bartow | Bartow, FL | February 15, 2020 |
| Previous Shows 2019 | | |
| --- | --- | --- |
| Central Florida Comic Con | Lakeland, FL | January 19-20, 2019 |
| SSA+S Toracon | Sarasota, FL | January 26, 2019 |
| Comic Con Revolution | West Palm Beach, FL | March 2-3, 2019 |
| MY-CON | Orlando, FL | March 16, 2019 |
| Magic City Con | Birmingham, AL | June 21-23, 2019 |
| Original Sin Underground Market | Palm Beach Gardens, FL | July 13, 2019 |
| Incredible Con | Charleston, SC | September 21-22, 2019 |
| Creatives Pop-Up Market | West Palm Beach, FL | September 27, 2019 |
| Grandma Party Bazaar | Winter Park, FL | December 15, 2019 |